DETAIL
---
(1)Features
:
• Stainless steel platform
• Tare (add-on) function
• Auto Power Off
• Unit conversion for metric and imperial
• Overload indicator
• Low battery indicator
• Capacity/Resolution : 5kg/1g
(2)Operation :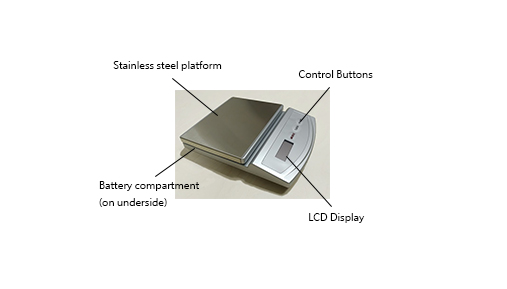 To select oz or gram :

Use the MODE button to select the desired unit of measure.


To use TARE function:



When weighing items are in a container, the container must be placed on the weighing platform before switching on the scales or the weight of container must be eliminated by pressing "TARE".
To add the weight value:
Press "TARE" to zero the value of the last weighing item before adding the next item being weighed. You can repeat this procedure for each additional item.

Auto power down:

The scale turns off automatically after 180 seconds of none use.
(3)Technical Specification:
3.1 Weighing specification
Capacity : 5000g or 11 lb 6oz
Graduation : 1g or 0.1oz
Minimum weight display : 2g
Accuracy : +/-12d at full load (+/-12g at 5000g)

3.2 Electrical specification
Battery : AAA battery x 4pcs
Normal Operating voltage : 6.0V
 3.3 perating Temperature : +5 to +35 degree C
(4) Mechanical Specification :

4.1 Dimension (mm) : 223(L) x 177(W) x 38(H)
4.2 Platform size (mm) : 178(L) x 130(W)
4.3 Net weight : ­­­ 520 g approx. (excluding battery)